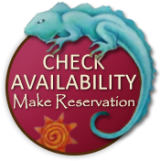 Ojai is the perfect vacation spot
, uniquely reflecting Southern California's relaxed and friendly personality. Ojai is widely known for being an active art community, spa retreat, and spiritual sanctuary.
Located an easy 90 minute drive north of Los Angeles or a 45 minute drive south-west of Santa Barbara, the picturesque Ojai Valley offers you much to see and do on your next vacation or getaway weekend. Ojai hosts many special events throughout the year, from wine tasting festivals and Ojai
studio artist tours
to
music festivals and world-class athletic events. The Blue Iguana Inn provides a central, yet tranquil, location from which to enjoy everything Ojai has to offer. Located just a few short walking-minutes from downtown, The Blue Iguana is a peaceful home-base from which the Ojai Valley and its surrounding areas are easily explorable. If you're looking for a way to get around, try
Roadrunner Shuttle
. We invite you to book your stay at the Blue Iguana Inn and Hotel for your Ojai vacation or romantic getaway today.
Festivals
Surrounded by the Los Padres Mountains, Ojai offers a perfect climate for festivals and other activities. Some of the signature festivals offered in this beautiful setting are the
Ojai Film Festival
,
The Music Festival
, Ojai Peddlers Fair, Poetry Festival,
Lavender Festival
and
Storytelling Festival
.
Hiking and Camping
From hiking and camping in the Sespe Wilderness area to boating on Lake Casitas, nature recreation is very much a part of the Ojai Valley. With its many parks, hiking and biking trails and exquisite natural surroundings, Ojai is the ideal destination for the outdoors-oriented visitor.
Dining
From casual to Fine Dining, Ojai has many restaurants to choose from.
Osteria Monte Grappa
is Ojai 's new pizza and sandwich restaurant. Try evening dining on the patio or
Azu
for a great Martini and Mediterranean food. Or try
Suzanne's Cuisine
,
The Ranch House
,
Feast Bistro
, and
Ojai Cafe Emporium
. We also recommend
Boccali's Pizza
,
East End Restaurant and Bar
, and
Rainbow Bridge
. The gourmet chocolates at
Chocolats du Cali Bressan
from French chocolatier Jean-Michel Carre are not to be missed.
So Many Options
From golf and wine tasting to a relaxing massage, vacationing in Ojai can be a luxurious and enlightening experience
Schools
The Ojai valley contains some of the country's best private middle and high schools. Families come from all over the world to enjoy special events and school activities. Many stay on in Ojai for restful vacations.
The Blue Iguana Inn is a perfect home-away-from-home that allows you to conveniently e
njoy the many wonders of Ojai, Southern California's Shangri-la.
Additional Vacation Options:
Golf at Soule Park
- This 18-hole, par 72 course is a pleasure to play from start to finish with 6,475 yards of rolling fairways winding their way through old oak and pine trees set along the base of the Topa Topa Mountains.
Guided Tours by Trails by Potter
-
Ventura to the Beach One Way Bike Ride - Suited for intermediate levels. This leisurely bike ride is approximately 2-hrs, 16 miles. You will take the scenic Ventura bike path down hill, to Ventura Beach. Package includes Raleigh and Schwinn bikes, helmets, water, snacks and experienced guides. Also included is a complementary van ride back to the Iguana.
Orchard Ride Guided Bike Tour - Suited for intermediate levels. This ride is approximately 1½ - 2--hrs, 7-9 miles, through the orange groves in the East End of Ojai. We stop halfway for a snack & continue through the flat lush green valley floor whilst the majestic Topa Topa Bluffs stretch above us. Package includes bikes, helmets, water, snacks and experienced guides.
Guided Hike - A two-hour hike into the beautiful foothills of Ojai, learning about nature and the history of Ojai with expert guides. Your hike can be as relaxing or as strenuous as you like. Snacks and water are included.
Rock Climbing - Climbing lessons are available for first timers and experienced climbers and anything in between. No previous experience necessary. Ages 10 or under MUST be accompanied by an adult. All equipment is supplied including rock climbing shoes. The routes are in the Ojai Valley and Ventura County on good quality sandstone, ranging from 5.5 to 5.11 grade and totaling 80 to 120 feet in height.
Click here to learn more
.
More information and additional tours, including rock climbing and tennis, can be found at the
Trails By Potter website
.
Ojai Angler
- Professionally guided fresh water world class trophy bass fishing. More.
Herb Walks
- Herb Walks with Lanny Kaufer are interpretive walks and hikes with an emphasis on edible and medicinal plants.
Cloud Climbers Jeep Tours
- explore to Ojai's back country in a 6 or 7 passenger jeep driven by an expert guide