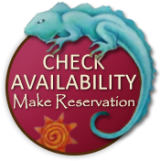 The Blue Iguana Inn
is a local artistic treasure and a truly unique Southern California lodging. Perfect for restful or romantic visits, business and family travel, or extended getaways, the Blue Iguana's delightful variety of accommodations are enhanced by lush gardens, expansive lawns, inviting patios and picturesque courtyards. We hope you will delight in the many original artworks, sculpture and hand-laid mosaic tile motifs you will find throughout our grounds. Of course, having a photo taken with "Iggy" our famous Blue Iguana mosaic tile fountain is a must for every guest.
An Ojai California Hotel - Ojai Style
The Blue Iguana Inn
was designed and built by renowned Ojai architect rc Whitman. It was designed in old-mission style architecture, reminiscent of old California and Mexico with arched entrances, terracotta curved roofing and rugged outpost railings. Flagstone paths marked with intricate stone mosaics and hand-made Mediterranean tiles accent the landscape of this charming Ojai Inn.
The same detailed care has been taken with each of the interiors. Authentic one-of-a-kind furniture pieces accent every room. Comfortable furnishings, exotic rugs, and original artworks by many of Ojai's most renowned local artists, are combined to perfect the tapestry that creates our distinctive, yet welcoming décor.
The "old world" ambiance of the Blue Iguana is completed by the warm and welcoming environment created by our friendly staff. It is our desire to make your stay absolutely unforgettable. If there is anything special you need, just ask and we will do our best to provide it for you.
In-Room Amenities Include:


Continental Breakfast Goodie Basket to welcome you upon arrival.
Outdoor Pool & Jacuzzi
Plush Bathrobes
In-room hairdryers, coffee makers, and refreshment bar
Deluxe "Memory-Foam" mattress pads
Complimentary Wireless Internet
Suites & Cottages w/ spacious Living Rooms & Full-Kitchens
Fireplaces and Jacuzzi Bathtubs
Original Artwork by Renowned Ojai Artists, featuring Marc Whitman
Candle Holders w/ Romantic Tea Lights
Private patios or courtyards
Dog friendly (upon approval).

It is our goal to create an ambiance for you that is warm, comfortable and charming. We hope your stay at this wonderful Ojai hotel will be perfectly memorable. Make your online reservations today, or call the Blue Iguana at (805) 646-5277.