Skip Navigation
Website Accessibility
The Blue Iguana Inn is open to host all your Leisure and Essential Travel needs.
Please follow the link to learn more about our Hotel Policies.
The Blue Iguana Inn
Ojai's Most Iconic Destination
The Blue Iguana welcomes all of our guests back to Ojai for both leisure and essential travel. It is our goal to provide each of you with exemplary customer service and the highest quality of product and experience. All our staff continues to work diligently to ensure our rooms, grounds and property are beautiful, safe and enjoyable for you our valued guest.
Book directly with us to always receive the best rate.
Welcoming guests for over 20 years with beautifully appointed guest rooms, lush gardens, and a courtyard pool and whirlpool spa. The Blue Iguana Inn exists an enclave of custom decorated guest rooms, suites and cottages. Ideally located two miles from downtown Ojai, and 12 miles from the Pacific Ocean, the Blue Iguana Inn is a cherished Central Coast destination. Enjoy our complimentary garden games, including bocce ball and croquet. Onsite bike rental is also available, and ideal for a leisure stroll on the adjacent Ojai Valley Trail.
Ojai, California
Ojai, California is the quintessential peaceful California town, bordered by Santa Barbara to the west and the spectacular Los Padres National Forest to the north. The exquisite Ojai Valley is world renowned for hiking, biking, bird watching and fishing. Ojai's historic downtown charms locals and visitors with award-winning dining, wineries, art galleries, boutiques, and world-class golf courses. Ojai's climate welcomes year-round festivals and cultural events, along with a long growing season producing the finest olives, citrus, and organic produce.
Accommodations
The Blue Iguana Inn Suites and Cottages offer your choice of accommodations including guest rooms, 1 and 2 bedroom suites and bungalows. Many boast wood-burning stove fireplaces and private patios and courtyards. Spacious living rooms and full kitchens are prized amenities in most suites and cottages.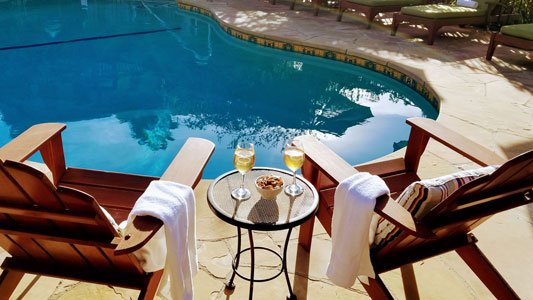 In-Room Amenities Include:
Outdoor Pool & Jacuzzi
Private patios & courtyards
Complimentary WiFi
Suites & Cottages appointed with spacious living rooms & full-kitchens
Fireplaces and soaking tubs
Original Artwork by Renowned Ojai Artists, featuring Marc Whitman
Candle lanterns & romantic tea lights
Dog friendly (upon approval)


Iguana Inns Email Opt-in, Join our mailing list.